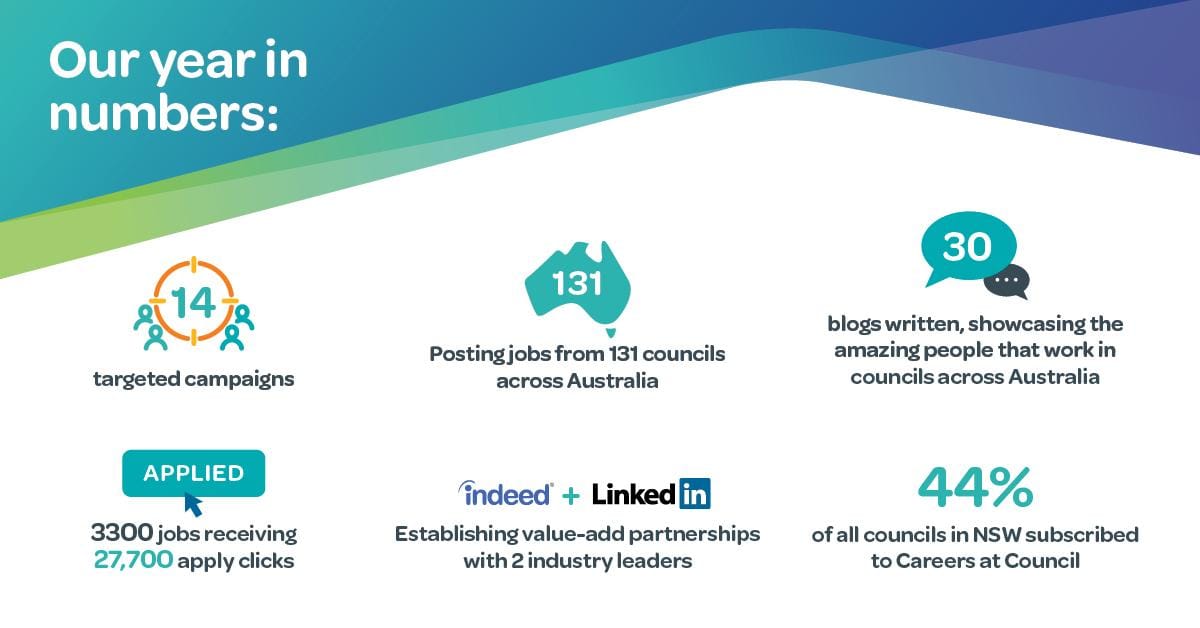 Last month Careers at Council celebrated its first birthday.  What a year it has been – with so many Australian communities adversely effected by COVID-19 and the devastating bush fires at the beginning of the year, conditions have been challenging.
Despite this, Careers at Council has grown; we have been officially recognised by the Commonwealth Government as the go-to portal for council vacancies on Jobs Hub and the Australian Apprenticeship Pathways, built a solid foundation of support within the local government sector, and developed a candidate following on LinkedIn and our Jobs Alert page that is increasing daily.
Careers at Council launched in November 2019 with the goal of authentically telling the story of a career in local government. We have achieved this through people-focused blogs, informative and engaging content and advertising a wide-range of entry-level to executive job vacancies – all supported by targeted campaigns to increase candidate awareness and drive traffic.
Careers at Council ends its first year having successfully carved out its place as the industry's site for information about careers and jobs in local government.
We're excited about the future and building on what we've achieved this year. We know there's still plenty of work to do to attract the workforce councils need to build the infrastructure and deliver the services required by our communities into the future.
Along with strategic campaigns targeting hard to fill roles, Careers at Council will continue to reach out to a younger audience in 2021; fostering an awareness of our endless career opportunities, and creating a pipeline of talent to learn from, and ultimately replace local government's ageing workforce.