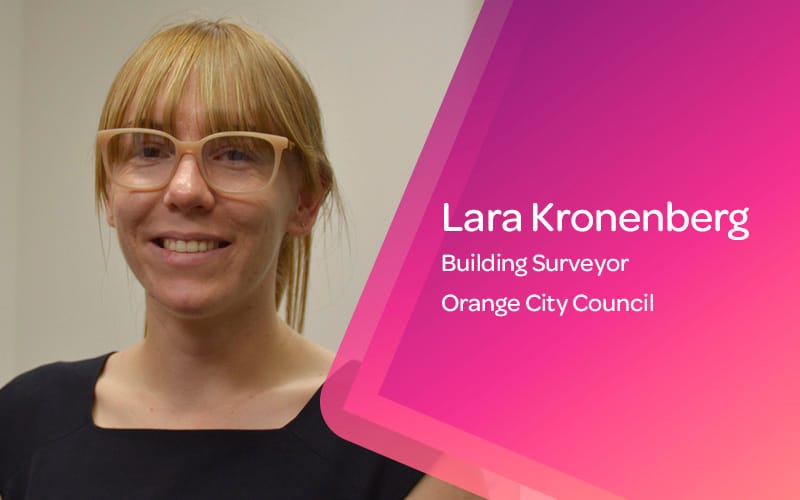 Q&A with Lara Kronenberg – Building Surveyor, Orange City Council
Lara began her career in building surveying as a cadet, and having achieved her first level of accreditation, she's now looking to the future and the next stage of her career. Lara chats to us about her diverse career journey and what she enjoys about living and working in the Central West.
Q. Can you tell us about your career journey, and what led you to this role at Orange City Council?
A. Sure! I began my working life in Forbes as a barista and front-of-house straight out of school. I then got a business administration traineeship with the Catholic Education Office in Forbes and I was there for two years. After around 10 months in a book-keeping role, I moved to my first local government role on the front counter in the customer service team at Forbes Shire Council.
Shortly after joining, there was a maternity-relief position that came available as admin support for the planning and building team. That was my first taste of the building surveying process. I was working with the surveyors, stamping their plans, and typing up their approval. I found it really interesting, looking at all the different plans for houses and commercial developments. The detail that was involved really sparked my interest.
I was also really interested to see what the site inspections that I was booking, actually looked like! Luckily enough, a two-year cadetship in building surveying came up and I was successful. So, I studied and gained my advanced diploma in building surveying – the first level of accreditation. My cadetship ended last year at Forbes and then I moved to Orange City Council at the beginning of this year.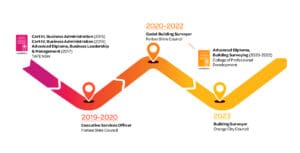 Q. Did you enjoy your cadetship experience? What was the biggest challenge?
A. I really enjoyed it; it was great to be getting the practical experience at the same time as learning the theory. The biggest challenge was probably that the course was self-paced and sometimes it was hard to keep myself on track! I was grateful for the Learning and Development Officer at Forbes who helped me out with a plan to get things done within a set timeframe.
Q. What do you enjoy and find the most rewarding about your role at Orange City Council?
A. I really enjoy the balance in the role. At Orange we have set days where we go out on inspections. On those days I'm out doing inspections from morning until I finish – that's usually two days per week. Then the other days I'm at my desk assessing the development applications, doing the construction certificates, replying to emails, and catching up on the paperwork.
I enjoy interacting with the wider team on applications. I work with the other building surveyors, we also have four development application town planners, and a team of development application engineers as well.
I'm very customer service orientated. So, I also love getting out into the community and talking to the builders, the homeowners, and the other trades. I find it really rewarding when my development application numbers go down and when the inspections go smoothly!
Q. What types of development assessments do you find the most interesting?
A. I've noticed that there's a lot of bigger houses here, in comparison to Forbes. And some of the houses are very fancy! We're starting to see new types of building materials which is really interesting. I recently went out to an inspection and the walls on this amazing house were made of a totally new material that we'd never come across. That can be challenging too because as a team, we have to do our research to make sure these new materials comply with the Building Code of Australia.
I'm also interested in the commercial side of things too. Although I'm not qualified yet to work on commercial development applications myself, I've started to go out with my supervisor on commercial inspections. There's a lot going on in that space at the moment; industrial sheds, multi-story developments, office space, underground basements. So, I get to go along and experience those types of inspections too – hopefully that'll be me one day!
Q. Is that where you see your career going in the future?
A. Yes definitely. The nature of the commercial work is that there's a lot more that goes into it. There are certain qualifications you need to become an A1 unrestricted surveyor – meaning you're able to work on commercial projects as well. You need to have a Bachelor in Building Surveying or a Graduate Certificate or Diploma. For me that would be an extra two years of study which I will look to do once I've had a study break and am ready for the next challenge!
Q. What would you say to someone considering a career as a Building Surveyor in the Central West?
A. I'd just say come out to the country! There's a lot of heritage buildings and amazing century-old trees – autumn is a beautiful time of year. It's a slower pace, it's far more customer-focused and we have so much interesting work going on at the moment. You'll definitely be busy and challenged, as well as being able to enjoy a fantastic lifestyle.
Perhaps it's time for you to discover what's on offer in the Central West. Check out the Building Surveyor opportunities available right now.