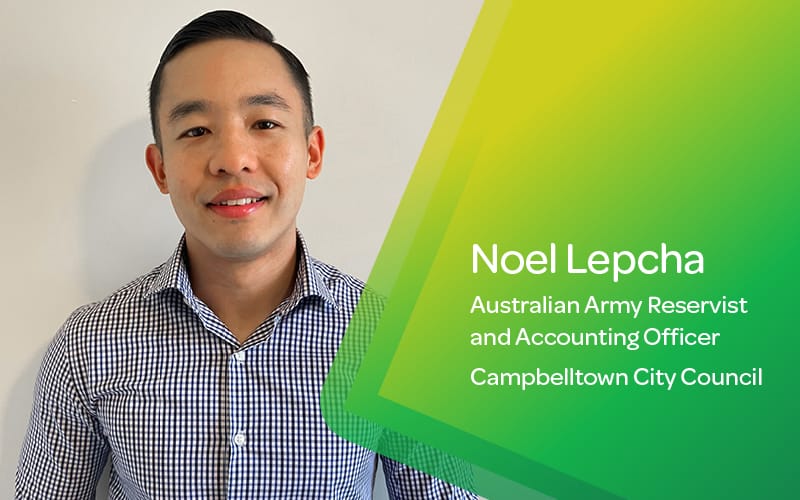 Q&A with Noel Lepcha, Australian Army Reservist and Accounting Officer, Campbelltown City Council
After six years serving as an Ammunition Supplier in the Australian Army, Noel Lepcha transitioned into civilian life – and into a new career at council. Noel chats to us about his time in the army, his decision to leave, and the skills that he developed while serving that have been critical to his success in local government.
Q. Can you tell us about your background and what led you to a career at council?
A. Although I'm Nepalese, I actually grew up in India because my parents were working there. When I was 18, I came to Australia to study and completed a Commerce Degree at Macquarie University. After I graduated, I worked in a small business as an Accountant.
My uncles and my grandfather were in the British Army and I had always known I wanted to join the military. So, in 2016, after two years working as an Accountant, I joined the Australian Army. I became an Ammunition Supplier and was involved in ordering ammunition for my unit, maintaining the ammunition, doing stocktakes and the transportation of ammunition. We also did more technical work such as the disposal of malfunctioning ammunition.
Although I was never deployed overseas, I was lucky enough to take part twice in Exercise Talisman Sabre – a major exercise that is a part of the ADF's extensive training program. In 2019, I was honoured to receive the Soldier's Medallion award for my performance during Exercise Talisman Sabre. That was honestly such a proud, memorable moment.
Q. That's fantastic – congratulations! So, what made you decide to leave the defence force?
A. Last year, I realised that I reached the point in my defence career where it was going to get really technical. I was going to have to do a lot of training in ammunition disposal and I knew that I didn't have the drive for that. I really wanted to progress my finance career which I was unable to do in the army. I was proud of what I had achieved, I had learnt a lot, and it felt like the right time to get back into accounting and finance.
So, in 2022 I left the army and came straight to Campbelltown City Council into the role of Accounting Officer.
Q. What made you decide to apply for a role in local government?
A. Because I am a reservist in the Australian Army, flexibility was important to me. After working as an Accountant in the private sector, I didn't feel that I would have the time to fulfil my duties. I felt that local government would be more accommodating for me to continue to serve as a reservist.
Q. Have you found that to be the reality since working with Campbelltown City Council?
A. Yes, definitely. That's one of the benefits of working in local government – the flexible working arrangements on offer. We operate compressed hours here at Campbelltown City Council which means I have 35 hours to work, but I can do that in four days if I want to. For me that means I can either have Friday off, or I can work as a Reservist on that day.
Q. What are the main responsibilities of your current Accounting Officer role?
A. I look after the accounting around the council's fleet and assets. So, procuring and disposal of vehicles, procuring assets for the council like computers and office desks. I also complete monthly reconciliations between different asset systems, stocktake of fleet and assets and provide forecasts for budgeting purposes – that includes roads, bridges, investment properties, all of the council's assets!
Q. Are there any particular skills that you learnt in the army that you've found useful in your new role?
A. Yes, I was actually surprised just how much of what I'd learnt during my military career, would help me in local government!
Firstly adaptability – in the army you have to be highly adaptable because things constantly change at the last moment. You need to be able to change your course of action. That skill has helped me to transition into civilian life generally. I've had to adapt to a new working environment, new systems, and a new way of working.
Secondly, is the ability to be goal or solution oriented. In the army we do a diverse range of tasks, you could be driving a truck, doing a stocktake, disposing of malfunctioned ammunition – if you don't have a goal-oriented mindset it's very hard to stay focused on getting things done. At council it is the same, there is a lot of multi-tasking, so you need to stay focused on the outcome.
Also, because of my time with the defence force, I was very used to the idea of governance. Things can take a long time because there are strict processes and procedures to go through. This is very similar to local government; decisions need to be approved and there is a certain way of doing things. It helped that I already had that mindset and understood the concept of governance.
Q. Are there any tips you'd give to veterans in the process of transitioning to civilian life?
A. The defence force offers different short courses on so many different topics that are really helpful during the transitioning process. I would definitely recommend taking whatever is offered before, or just after you have transitioned out.
Q. You mentioned flexibility as being one of the benefits of working in local government. What other benefits have you enjoyed?
A. The level of career opportunities is going to be a real benefit. In many ways it's very similar to the defence force. You have truck drivers, engineers, operations staff, corporate teams. There are just so many opportunities.
The training and professional development is also very good. I have only been here 14-months and I've already been sent on a week-long intensive course in Bathurst covering 'Finance in Local Government'. I really enjoyed that – it was so valuable. I also competed in the Australasian Management Challenge which was a great opportunity to develop my skills and grow in my role.
And finally, just the level of support for veterans. I feel like local government is the perfect place to step into civilian life. They understand what's involved and give you the space and time to adjust to your new life and career.
Learn more about why Local Government is the ideal place to begin your civilian life here, and discover the opportunities available in councils across Australia today.