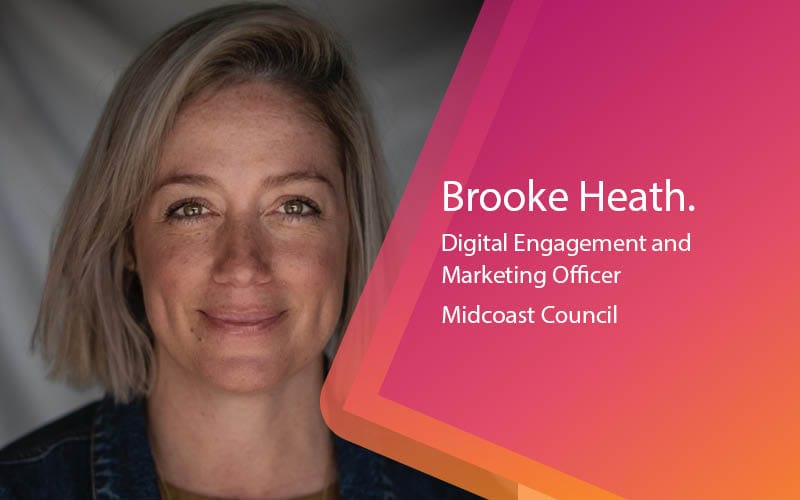 Introducing Brooke Heath, Digital Engagement and Marketing Coordinator at MidCoast Council
New to Local Government, marketing professional Brooke Health talks to us about what led her to MidCoast Council, her observations of working in a council environment and her aspirations for the council's newly formed Digital Engagement and Marketing department.
Q. Are you able to describe your career journey and what led you to MidCoast Council?
A. My background is within creative advertising agencies as a Strategist and prior to that, as an Account Director. Six years ago, on a bit of a whim, my partner and I moved to the area from Sydney. I began consulting for MidCoast Council across various areas; Tourism, Economic Development, Communications, Talent Acquisition, and the Waste Department. Basically, using my background in strategy, to help with their strategic development.
When the opportunity with the right role came up, it really felt like a natural step for me to move in-house.
Q. Did you study Marketing at University?
A. Actually weirdly, no! I went to Uni in both Newcastle and Sydney but actually studied fine arts and expressive therapies. Not anything to do with marketing, but there is a link. My studies helped me to understand how to take a creative concept and turn it into something that connects with people. And obviously the psychology aspect of expressive therapies taps into discovering peoples' wants and needs in order to facilitate effective communication.
I did go on to study marketing later in life. I moved overseas and found myself in a customer service role and they offered me the opportunity to do some additional study which I jumped at.
Q. Your role is a new role within a new department – what are your aspirations and plans?
A. Well it's unusual for a council to have a dedicated digital engagement and marketing department so firstly, I feel incredibly lucky.
I can see an enormous role – in our ability to not just educate our community around the time, energy and thought investment that the council puts in to everything we deliver, but to also showcase some of the highly talented and skilled people that work here. There's this myth that people who work at council are just pushing paper around. I can't wait to dispel that myth – here there's a really dynamic workplace with a young, ambitious, motivated team of staff who are all looking for innovative and more engaging ways to connect with community.
I'm also really looking forward to the future planning; thinking about different ways we can engage with community on the topics that are most important to them. I'll be developing a content strategy to direct our communications across the website, social media, video – what do we want to be talking about and how are we communicating it? That will include looking at future technology, how we can be utilising it if we feel it's right for the community.
MidCoast Council is a brand with a very strong vision. I'm looking forward to developing our first brand campaign and taking it to the community to show them what we're all about.
Q. What does your role currently entail?
A. Right now, I'm involved in developing our digital strategy, also developing our social media content strategy as a part of overarching marketing strategy.
Social media in a local government context is a very interesting space to navigate. Obviously, it's a great place for us to go out with a message for the community, but it is also a very open, very transparent place for the community to come back to us. We will never please all of the people all of the time, but our team always responds respectfully with the aim of forwarding whatever the issue/query, onto the correct department for resolution.
We're also in the process of developing a brand-new website and digital engagement platform for our community. We were amalgamated into a larger council a few years back, and there's still work to do to educate the community about our remit and what we're doing to meet the communities' strategic goals.
I have a team of seven staff – an average day is checking in with them on all the projects we're responsible for including managing our website and the social media platforms and developing brand collateral for campaigns. I have a lot of touch points in the day which I really enjoy.
Q. One month in, what has surprised you the most about working in local government?
A. I think the real commitment to community has been a surprise. Just how much of our focus, every single day, is on how can we improve the lives of the people who live in our area. There are 1000 employees here who are literally dedicated to improving the lifestyle of our community.
It's a really nice headspace to be in when you're thinking about the work that you're doing.
The wider community don't necessarily understand the breadth of exactly what council does so I've really been trying to come to terms with all of the different department and their roles. I'd touched on the larger ones as a consultant, but understanding the wider departments and services that make up local government infrastructure is ongoing.
Q. How would you describe the culture at MidCoast Council?
A. I would say our culture is still emerging. Up until a year ago everyone was working in different buildings but over the last 12-months we've all moved into this amazing brand-new building – it's easily the most modern workplace that I've had the opportunity to work in.
Everyone is getting to know each other and there's a real push for us to collaborate between departments. Socially and culturally, it's a really exciting to space to be in.
Q. What type of skills and attributes do you think a successful Local Government employee needs to have?
A. Like I just mentioned, it's rare here for any project to not involve cross-department collaboration, so you have to be willing to work outside your immediate team – to go and meet with other people. You definitely need to be open to asking questions, and to thinking about different ways to do things.
Our area spans 10,000kms so we are incredibly geographically spread out so we have to consider different ways to engage with our community. We definitely don't have a one-size solution to anything here – you have to be open to coming up with bespoke solutions.
Q. What would you say to a communications/marketing professional who was considering making the move to Local Government?
A. When I worked in agencies it was fast-paced and super exciting – I loved it. However, you're forever putting your heart and soul into something and handing it over. You'll always have ideas that are bigger than the brief and you never have the opportunity to build on an idea or a campaign.
I really started to long for the ability to focus on the one brand, to build a strategy and see it grow and change and create work off the back of it. And even better in this local government environment, I'm getting to focus on one amazing brand and actually see my work adding value to the community. That's what makes this so rewarding.
Are you a marketing or communications professional looking to apply your skills in a meaningful environment where you can really see the impact of work?
Check out the roles on offer.