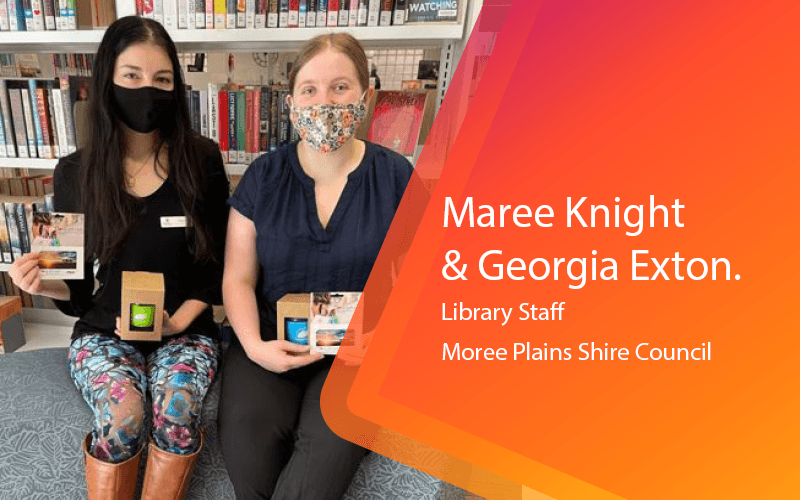 Introducing Maree Knight and Georgia Exton – Moree Plains Shire Council
The Shire of Moree Plains, located on the New South Wales and Queensland border, is one of the largest Local Government areas within New South Wales. Moree Plains Shire Council Library staff members Maree Knight and Georgia Exton have both recently finished their probationary periods, and chat to us about their experience so far, and why they chose a career in council.
Originally from Dubbo, self-confessed outdoor enthusiast and adrenaline junkie Maree craved a different space for her climbing passion and career. She took a chance and set off to Moree, where space is plentiful and national parks are a mere stones-throw away.
Marie comments, "Mount Kaputar is only about an hour away. It has so many good places to climb and it's now one of my favourite places I like to go."
After completing an information services diploma, Sydney-based Georgia would never have guessed she would become a Library Technician in such a rural area. But after giving up the hectic city environment in exchange for a country lifestyle, Georgia hasn't looked back.
As a recent graduate, Georgia was looking for a role that would allow her to develop skills to kick-start her career and get ahead of her city counterparts. Georgia explains, "This early in my career, I was looking for an organisation that would let me jump right in and let me absorb as much information as I possibly could. Moree Council offered that kind of opportunity and hand on heart, I can say that this is a true reflection of my experience so far."
Maree is also not afraid of a challenge, physically or mentally. That's what has driven her to leave her background in education and explore a new local government career path. Whilst the move to Moree was a risk, it paid off with Maree commenting, "There is so much more to Moree than people realise and the support at Council, both professionally and personally, is second to none". Georgia agrees saying, "I even found a home to live-in through a colleague's connection!"
As part of completing their probationary periods, Maree and Georgia received their own Love Local Gift Card, a Council-funded initiative supporting local businesses impacted financially by the recent floods and COVID-19 pandemic.
A big welcome to a career in Local Government Maree and Georgia.
If you're interested in understanding what a Council Career could offer you, why not explore the opportunities available by visiting https://jobs.careersatcouncil.com.au/