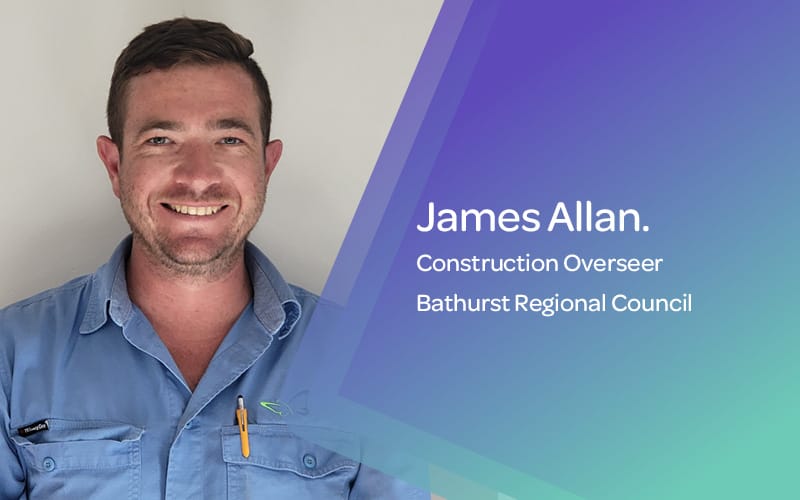 We recently caught up with James Allan, Construction Overseer for Bathurst Regional Council to find out more about his journey from Labourer, to overseeing the construction and maintenance of the bridge, drainage and road infrastructure for the entire Bathurst region.
Read on and be inspired by James's astounding career journey, discover why he believes local government is the perfect place to begin your career and why the Central West region of NSW is the best place to live and work.
Q. Can you talk us through your career background and what led you to your current role?
A. When I left school, I went to do a chef's apprenticeship. So, I'm a qualified chef by trade! But after working four New Year's Days in a row, I decided it wasn't for me. I decided to try my hand in civil construction in the private sector up at Coffs Harbour and shortly after I was offered a traineeship at Coffs Harbour City Council. Once I finished the traineeship, they offered me an apprenticeship so I could get my trade in civil.
When I started at Coffs, I was a Labourer – when I left four years later, I was the Leading Hand of a construction crew.
I'm originally from Bathurst and my partner and I decided to move back home  where I started from the bottom again as a Labourer for Bathurst Regional Council. After a while they must've realised I was underutilised and the council supported me through all the Cert III's and IV's in management training and I took on the role of Relief Urban Supervisor, and then Relief Rural Supervisor.  They made a call to join those two roles together and created the Construction Overseer position that I'm in today.
Basically, I'm in charge of all of the construction across the region – bridges, drainage and roads.
So, I've literally started at the bottom twice and through hard work and commitment, I've worked my way up. I really believe in local government if you grab the opportunities that are put in front of you and work hard, you'll make it!
Q. What types of challenges do you face in your role?
A. Bathurst Regional Council covers a massive area. We have every different type of terrain you can imagine; pure rock, pure granite, swamps, hills, flats – we've got everything. Road construction requires a totally different approach depending on the ground you're building on. You can't just treat it all the same which definitely throws up some challenges.
The distance can also be challenging. I do 2000kms a week just going between the different jobs. Sometimes I need to talk to a team but they could be 100kms from town with no mobile phone connection – so there's no other option but to drive there.
Q. What would a typical day look like for you?
A. The team does laugh about that! Sometimes I'll say to them ok – today you're doing the 'same-as!' And they laugh because very rarely is there the 'same-as' in this job.
But generally speaking, we start early and work longer hours than the rest of council because of the distances we need to travel. Each year we aim for about 4-6kms of reconstruction of dirt road – that means we build it to a stage and then seal it so it's brand-new bitumen roading. We also aim for 6kms of reconstruction – fixing already sealed roads that are in a bad way.
On a typical day I find out who is coming in and whether there's any machinery that needs fixing. I get everyone set-up on their jobs and I go from there. It's very reactive. I can't plan today, let alone next week. You definitely have to be flexible and agile because every day is going to be different.
Q. Do you enjoy the variety that you've just described?
A. I love it. Changing the plan as we go along depending on what I'm faced with – it's one of the aspects I love about the job. It keeps you on your toes, and you'll never be bored.
Q. How would you describe the workplace culture at Bathurst Regional Council?
A. When I think about the culture here, it's the brotherhood that springs to mind. It reflects the culture and spirit of Bathurst itself – everyone will go above and beyond to help others out.
When there's been bush fires or floods, we've had weekends where the whole council has worked twelve hours on Saturday, and twelve hours again on Sunday just to get roads and bridges open again across the region so the community can have access to town.
We're all proud of the council and the work we do – it's a great place to live and work.
Q. Is that concept of giving back to the community you live in important to you?
A. 100%. And I try and get that point across to my staff. If you're building a road or a bridge, even if it's the smallest thing – what you're doing matters to the community. One of our crews repair potholes, and sometimes it can feel like an endless and thankless job. But I say to them "You might've just saved a motorcyclist from coming around a corner and hitting that pot hole and heading into a tree. It IS important". Everything we do the moment we leave the depot is to improve Bathurst.
Q. What would you say to someone considering a move to the Central West region to live and work
A. There's about a million things I'd say! I actually literally recruited a guy from Sydney and his first day he said "Jimmy, I got to work in 12 minutes and there's no traffic lights!!!"
Seriously though, there are music festivals, the winter fest, Sydney is only a two-hour drive. There's obviously plenty of car events at Mt Panorama and the food and wine hub Orange is only half an hour away. There's the Birdle Track which has so much history, and if you're into fishing we have six dams within an hour and a half drive from here that have all your target fresh water species.
From a career perspective, with local government you get job security, an RDO every three weeks and heaps of training opportunities. In my team there's unlimited overtime available – so if you're saving for a house and you want to work every second Saturday, we can make it happen. It helps us too because jobs get done faster – the community is happy, council is happy, and the employee is happy.
Safety is also a big plus here. I don't ask any of my team to get in a fifteen-year-old truck that's got a million kms on it with no air con. All our gear here is brand new. And of course, the location is amazing. The bridge crew work in some of the prettiest spots you've ever seen. From rainforest, out to Birdle Track – what a workplace!!!
Basically, you've got everything here that you could want.
Q. Do you think Local Government is a good place to build your construction career if you're just starting out?
A. If you're a young person without experience, sometimes private industry doesn't have the time to train you and give you a start. Whereas Council is always willing to give people a chance to prove themselves and gain experience. I've got a young guy that came across from another department in council and now he can pretty much operate all of our heavy machinery because he showed initiative and he stuck with it. It helps him, but it helps me too – now I've got an extra team member.
I'd say come in and prove yourself. Council is all about training you and giving you opportunities. So, if you're willing to work hard and seize the opportunities, you can 'grab it and go' in local government.
So why not explore the opportunities that are available right now in the Central West region of NSW – perhaps now is the perfect time to grab it and go yourself?