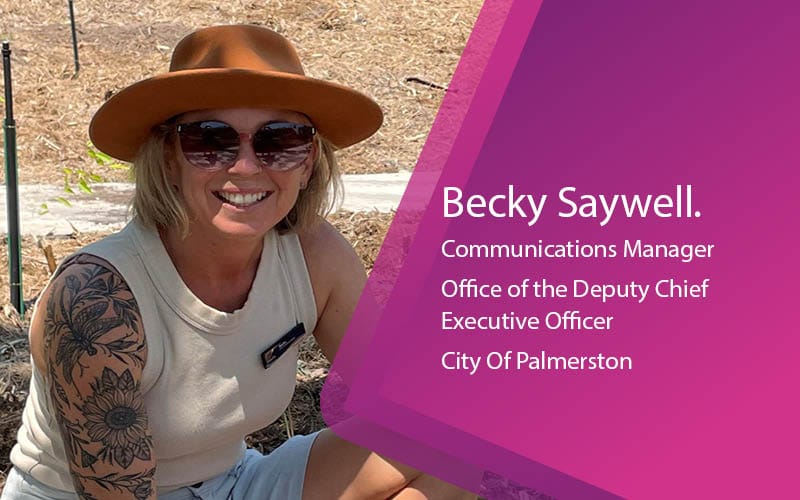 Introducing Becky Saywell, Communications Manager – City of Palmerston
Sixteen years ago, Becky Saywell's career in Tourism brought her to the vast and magnificent Northern Territory. Based in Brisbane at the time, Becky had the opportunity to travel to the region and discover more about the amazing location she was selling. And once she did, she didn't want to leave. Becky explains, "We travelled up here to see what it was like. I just fell in love and six months later, I shifted up here."
From Tourism to a new challenge in Local Government
Becky initially worked as a Sales and Marketing Manager for a local touring company and then moved to a role with the Northern Territory Government statutory authority, Tourism NT where she worked for ten years in marketing and business development.
At Tourism NT, Becky promoted the Northern Territory as a unique travel destination to a diverse range of audiences – including the education sector. Becky explains, "Interstate school trips gave students the opportunity to bring to life their classroom learnings enabling them to experience first-hand the natural wonders of the region and the rich Aboriginal culture they were learning about."
Then came an unplanned move to local government and The City of Palmerston in 2021. Becky explains, "The role fell into my lap really, it was perfect timing. I wasn't looking to leave tourism, but after ten years I was looking for a new challenge!"
Hitting the ground running
A year into her role as Communications Manager with City of Palmerston and Becky is thriving. She comments, "It's so exciting and busy – I've really hit the ground running. The scope of work is crazy…..that really surprised me as there's so much more going on than what you see from the outside."
From developing educational communications around an invasive weed issue in the city's lakes, to working with a designer to create new marketing collateral for an upcoming event, the work is diverse, interesting and community-centred.
Becky comments, "My work is led so much by the community, and what is important to them. I get around and chat to people in the team to understand what they're doing at the moment, even if they don't think it's important – they might just be fixing a footpath – but for the community that's really important. I need to be communicating that to residents so they know what happens behind the scenes."
A collaborative culture which welcomes fresh ideas
Becky describes the culture at City of Palmerston as supportive and collaborative, she comments, "There are so many really passionate people working together across really amazing roles, doing really amazing things. There's a lot of young talent and a young leadership team as well – fresh ideas are definitely encouraged here."
Also encouraged is professional development. Since beginning her role a year ago, Becky has already completed several courses and is currently on a senior leadership course, designed specifically for the executive leadership group at the council. Earlier this year, she also travelled to Melbourne to attend a social media summit for local government.
Reflecting on the development opportunities she's undertaken, Becky comments, "In local government you need to have an open mind and be willing to take new ideas on board. There's such an incredible amount of diversity in our community, so it's important to understand the differences and learning new ways of doing things". Becky adds, "The culture here has really energized me. I love to learn, and here I'm so much more satisfied and energized. I have the support to continue getting better and better."
Are you a communications specialist looking for a challenging, varied and community-focused career? Explore the roles on offer across Australia here.