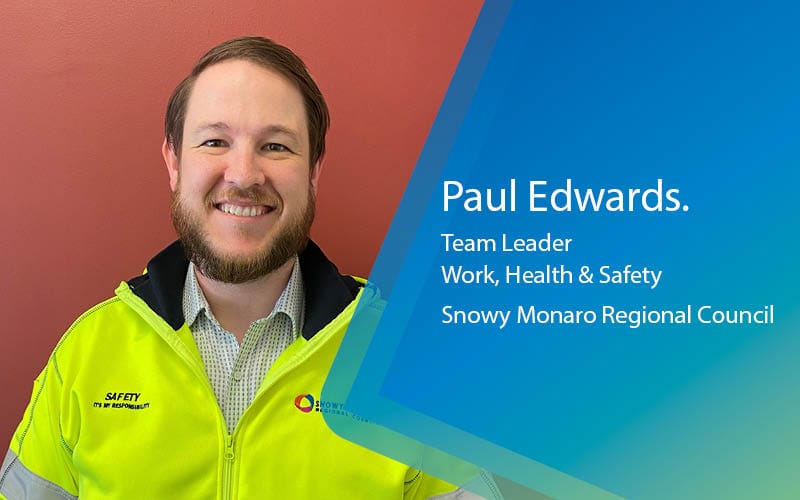 Introducing Paul Edwards – Team Leader Work Health & Safety at Snowy Monaro Regional Council. We recently caught up with Paul to discuss his move to the spectacular Snowy Monaro region in NSW, and his career pivot to a new challenge in local government.
Q. You're new to this beautiful region. Can you tell us what prompted the change?
A. My partner and I had been looking at moving out of Sydney for quite some time. I'm a skier, so I have a natural affinity for the region – it's just such an amazing area, with the snow and lakes. We had our first child in Sydney and I took a year off to spend with my wife and son. When it was time to go back to work, I realised it wasn't what I wanted. It was then that we decided to pull the trigger and move to the Snowy Monaro region. That was about a year ago now.
Q. Can you tell us about your career background, and what led you to a career in local government?
A. I have a civil engineering degree from the University of Sydney and as a graduate, I went straight to Sydney Water. I worked there for 11 years in a range of roles; project management, operations, contract management and a bit of safety thrown in there too.
When we moved to Snowy Monaro, I actually applied for a different role with the council and they suggested that I'd be better suited to the Team Leader Work Health and Safety role. I thought about it, and saw it as a challenge – I haven't had much of a safety focus before and I've never worked at council, but I knew it would be interesting.
It was a good way to change things up, challenge is always good!
Q. On the topic of challenge, what are some of the challenges you come across in your role?
A. One of the big challenges is the massive area we cover. Snowy Monaro Regional Council is responsible for an area of 15,162 km² – reaching from the ACT border in the north to the Victorian border in the south. Our workers are everywhere and that means a lot of travelling.
One of the other challenges is around effectively engaging and communicating with employees. Council covers such a wide range of services, from water, waste water, roads, waste, tips and general construction, to aged-care, community facilities, libraries, parks, fields and gardens. You're not going to communicate with a nurse in an aged-care home the same way you'd engage someone who is on the tools fixing a water main. And of course, they have very different risk factors and safety concerns as well.
Q. What type of tasks would you do on a typical day?
A. Managing workers comp, and employees return to work after injuries, site inspections, visiting workers in the field, updating policies and procedures, training – it's such a varied role.
Q. What does a successful day look like for you?
A. For me a lot of it is about making positive changes. I've come into this role with a whole lot of new ideas and I can see so many things I want to do and change. I am trying to focus on setting myself some targets for the day – a successful day is where I've come away and achieved what I wanted to achieve, making progress towards everything being safer.
Success for me is also about having positive interactions with workers, it's satisfying when I have engaged with someone about a health and safety issue and helped them understand it better.
Q. What are some of the biggest risks your workers face in their roles?
A. The geographic area we cover creates risk. Our workers are driving a lot and of course there is always the risk of an accident. But I'd say it's the areas we work in that creates the most risk. Some of our workers are operating in confined spaces such as sewer man-holes or at great heights at the top of water reservoirs – that's where if something goes wrong, it can be fatal.
Q. Can you describe the training opportunities you've had since you've been at Snowy Monaro Regional Council?
A. Being in the HR team, I can see just how much training is being developed and run for employees. I also get to have input on it because a lot of it is focussed on ensuring people have the right tickets to do their job correctly and safety. Personally, I've found the training really valuable – I've had training that's critical to my role and also had fantastic networking opportunities.
Q. Can you tell us about that networking?
Q. We don't have one hundred Health and Safety Officers here, so it's been really valuable to talk to other people from nearby councils who are doing the same role. We have a really strong network of councils in the region and the Health and Safety specialists come together regularly and communicate online to share ideas and collaborate. If you're creating a policy document or new procedure it is so great to jump onto the group chat and get advice, or see if you can adapt something that has been successful elsewhere.
Q. What would you say to someone considering a Health and Safety career in local government?
A. I can honestly say I feel more connected to the community. In Health and Safety, you touch on so many areas of council, meet with so many workers across different disciplines and each of those people are doing amazing work out in the community. That means you can really see the impact of your work in and amongst the community. I just don't think you'd get that same connection working anywhere else.
The other amazing thing I've found about working here is the flexibility. I was used to having RDOs but here we get flexi-time which is basically RDOs taken to the next level! And living in this area, having the flexibility during the winter season if my schedule allows, to take a day off and go skiing is just so valuable. It creates the perfect work/life balance.
Is it time for you to consider a new challenge? Explore the roles on offer right now in councils across Australia here.