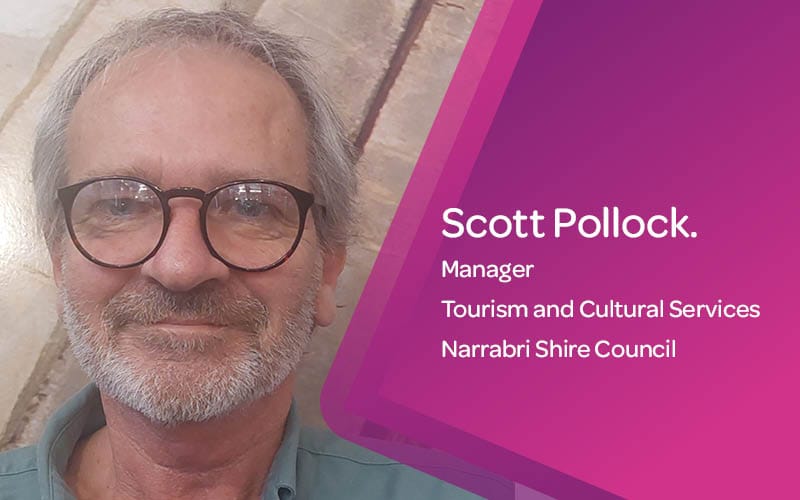 Q&A with Scott Pollock, Manager Tourism & Cultural Services at Narrabri Shire Council
Careers at Council recently spoke with Scott Pollock to discuss his rich and diverse career journey, his current role, and what he believes makes Local Government a clever career choice.
Q. Can you tell us about your career background and what led you to this role at Narrabri Shire Council?
A. I've been very fortunate – I've always worked in areas that have been a passion for me as well. I left school in Year 11 and studied acting for around three years, I then got into horse riding and from there moved to Tourism which I loved. And Tourism was where I stuck!
I started out in Local Government but moved across to the National Trust which took me to the most beautiful gardens and historic homes across Australia. We planned events to open these amazing places up to the public – so it was tourism, but with a cultural slant.
When I left the National Trust, I thought 'Where to next!' and this role came up which felt perfect. I'd never been to Narrabri before – actually I'd never even heard of it!
Q. What are your main areas of responsibility in this role?
A. This role is so varied. I look after tourism and events, the visitor information centre, libraries, and I also look after community development which includes youth programs, seniors and working with First Nations peoples.
Right now we're running a program to teach youth about developing a podcast about mental health. We've got 10 young people going through a process; being taught how to present, ask questions, listen, talk and then they'll actually make the podcast and market it to the community.
I'd never worked in community development before – and I absolutely love it! It is just so rewarding; you're actually doing work that makes a real difference. I find that it's not always the amount of people that attend your programs or events, it's whether the people who did attend have felt something and experienced something that's close to their heart.
That's what I really love about what I do.
Q. What does a successful event look like to you?
A. For me an event should be fun. Sure – art might educate, art might open minds, art might be a form of expression, but to me it is a backdrop to create an atmosphere where people can have fun.
If they get interested in something from being there – terrific! But the main purpose is to inspire and have fun.
We're obviously also guided by our community strategic plan, but I try and be a little bit creative. How can we achieve the objective but also touch more people with an event? So instead of treating libraries separate from community, which is separate from tourism, I'm trying to bring them together to hit a lot of boxes from different angles.
Create is a good example of this, it's an arts-based festival that runs over a 16-day period. It's an amazingly inclusive event, which I just love. We will always have performers with a disability performing, we will always have people with disabilities in the art exhibition. It's also designed to include the businesses in town – there's a street party on the middle weekend, there's exhibitions at the different villages across the shire. The event is only two years old, but we're trying to stretch it out so that everyone benefits.
Q. What would you say to someone considering a career in local government?
A. You don't know where it's going to take you! Once you get in here, doors open for you and no matter what skillset you have, there will be a role here for you.
From youth working in council-run cinemas or cafés, right up to very highly educated people – the beauty of working in Local Government is the diversity of work on offer.
Q. What attributes do you believe successful Local Government employees all share?
A. The most successful people are the ones who are nurturing and passionate. People who are here to help, not put up roadblocks, and people with empathy who care and want to help the community.
Q. You've been in Narrabri and this role for two years – what do you think you get working here that you wouldn't anywhere else.
A. You get Narrabri! I know it sounds weird, but that's what you get. You get the people, the community, the culture. People here are so welcoming, and the area is so beautiful and unique.
Where will your next career move take you? Why not explore the opportunities available right now: https://www.careersatcouncil.com.au/jobs/