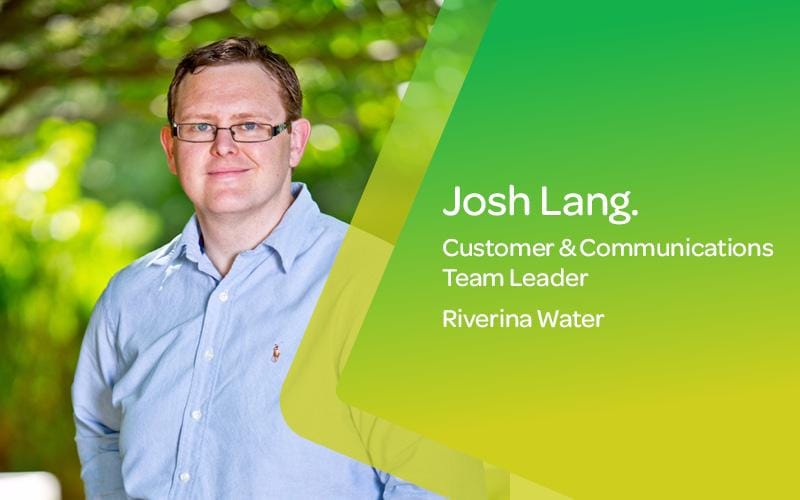 Q&A with Joshua Lang, Customer & Communications Team Leader, Riverina Water
Q. Can you tell us about your career journey and what led you to your role at Riverina Water?
I grew up in a town called Leeton, about 1.5 hours inland from Wagga Wagga, NSW. After studying communications and journalism at Charles Sturt University in Bathurst, I began my career working in the media; first in Leeton and then the Daily Advertiser in Wagga.
When a communications and engagement role became available at Wagga Wagga City Council, I jumped at the opportunity and it proved to be one of the best decisions I've made for my career. I spent five great years at Wagga Wagga City Council, before moving across to Riverina Water where I've been for two years now – first in a community engagement role and currently leading the customer service and communications team.
Q. What surprised you the most about working in a Local Government environment?
Working in the media you have an assumption about government and bureaucracy. When I made the move to Local Government, I quickly learned it's an industry made up of passionate people who do great work for their community.
The other thing is the diversity of work. At Wagga City, the breadth of services of Local Government was a real eye-opener. I knew there was far more than "roads, rates and rubbish", but are so many more things that build a great community – like libraries, events, economic development and social services.
While Riverina Water sole role is to provide drinking water, it was surprising to learn the size and scale of our network and the water treatment process.
Q. Can you describe what your role involves and why you enjoy it?
My team and I are the main conduit between community and customers, and the organisation.
Because Riverina Water covers such a large supply area across four local government areas, it can be challenging to communicate effectively with such a wide range of people. So ensuring we are effectively using social media and the website is really important; as well as complementing it with traditional communication tools to make sure we are reaching as many people as possible.
Additionally, my role is as Riverina Water's media liaison and a broad mix of community engagement activities, such as arranging tours and education opportunities with groups and schools, gaining community input into decision making and more.
Riverina Water currently has a $500,000 per annum community grants program, which I administrate, along with our annual donations and sponsorship.
Communications and community engagement roles are so diverse in Local Government. You can really do a lot more in a Council environment, which has been fantastic for my professional development and gaining new skills.
Q. What do you find the most rewarding about your role?
It's the people who make everything possible in Local Government. At Riverina Water, whether you work in customer service or water quality, you are contributing to the safe and reliable supply of drinking water. It's so rewarding to know your role helps enrich your community; water is the lifeblood that keeps the city and towns in our supply area pumping.
Q. Can you tell us about a time where you've been able to make a difference in your role?
There's a small village within the local government boundary but not connected to our supply network. They were one of many communities hit by the devastating 2020 bushfires.
They had used all of the water in their tanks to fight the blaze and protect the homes and livestock. The village hall, which was the hub the community, had also had its water tank damaged.
After being contacted by a resident for a support, in a day or two I had arranged free bulk water delivery to refill their tanks and paid for a new water tank at the village hall.
We attended a community meeting following the fires it was an amazing moment to see the difference we were able to make at such a difficult time for that community. And that was made possible through the commitment of Riverina Water's management and Board to go the extra mile and support our community.
Q. What would you say to someone who was considering a move to the Riverina region?
Do it! It's a beautiful part of the country. Career, lifestyle, work-family balance – it's all right here for you.
You'll find all the services you'll need; museums, galleries, shopping and yet you're only a short drive away from open countryside. The Riverina region really has a country heart with a city beat.
Click here to discover what a Communications career in Local Government could offer you and explore the council jobs on offer right now.