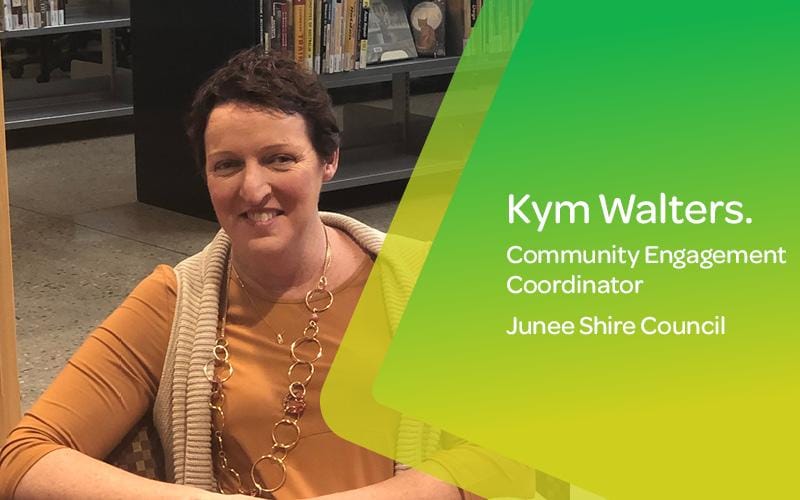 Introducing Kym Walters, Community Engagement Coordinator, Junee Shire Council
In July 2021, after eight years working for Queensland's Maranoa Regional Council, Kym Walters made the move to the Riverina Region in NSW to join Junee Shire Council as Community Engagement Coordinator.
BRINGING A DIVERSE SKILL SET TO THE TABLE
Kym brings a diverse career background to the role, something she believes will help her succeed. Kym explains, "My background includes admin, HR and Payroll. For Maranoa Regional Council I oversaw five art galleries and museums in an arts and culture role."  She adds, "I'm really enjoying being able to share my wide-ranging experience here at Junee – being a smaller council there's a lot more opportunity to get involved in different areas which suits me really well."
ENGAGING WITH ARTS & CULTURE
In Kym's role as Community Engagement Coordinator, she oversees the library and is responsible for bringing different events and initiatives to Junee. Kym comments, "Now that we're opening up more after the lockdown, I'm excited to be able to start running events and attractions again for the community. We have the Athenium Theatre here which is an amazing building, it would be great to be able to use that more – perhaps even bring an opera to Junee!"
ENJOYING EVERTHING THE RIVERINA HAS TO OFFER
Kym is slowly exploring and discovering her new home, and she likes what she sees. Kym explains, "I love the fact that you can literally drive 20 mins and you're somewhere interesting. You have all these beautiful little towns that are around that you can explore – and they're right on our doorstep."
The people have also been a highlight for Kym. She says, "The people here are lovely – very welcoming. I walk down the street and everyone says hi, they really want to engage. And at the Council itself, my team have been so supportive. Many of them have been here for a long time, so they're able to teach me so much. If anyone was considering moving to the Riverina, I'd say come and experience the lifestyle – the people are fabulous and life is so easy, very laid back."
CONNECTION SUPPORTS COMMUNITY WELLBEING
Community Engagement plays a vital role in communities health and wellbeing. The work that talented people like Kym undertake in local government ensures that our communities are connected through arts, culture and shared events.
Would you like to play a part in your community's wellbeing? Click here to discover similar opportunities available in councils now.