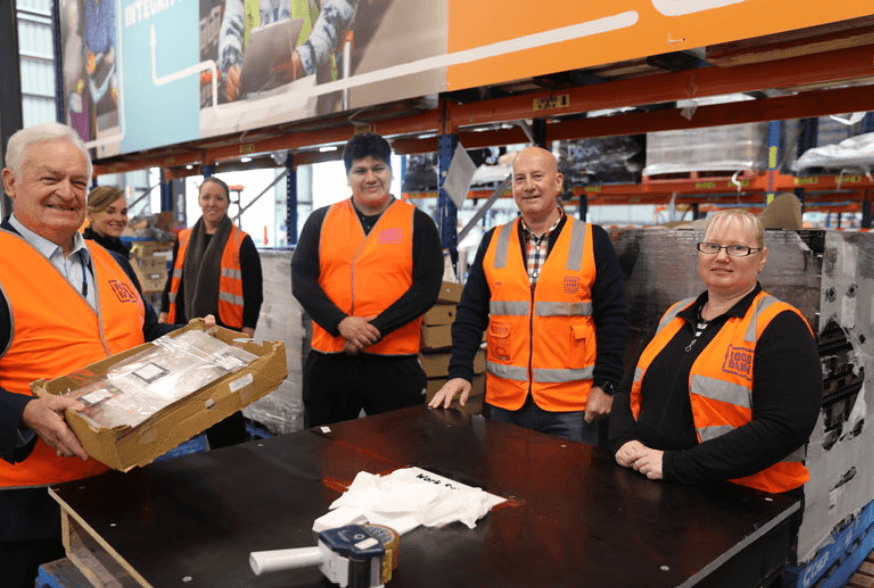 Blacktown Council staff who found themselves underemployed as COVID caused venue shutdowns and event cancellations have been redeployed working for a charity that supplies food for families in need and school breakfast programs.
Mayor Tony Bleasdale Kerrie-Anne Reid, Kelly Maybury, Gerado Calizaya, John Robertson, and Erin Jones.
Foodbank is Australia's largest hunger relief charity, supplying 250 charities with food and running the School Breakfast 4 Health program.
It says it experienced the most substantial and sustained demand it has ever faced during the pandemic, with two in five families struggling to feed their children.
The organisation normally relies on volunteers to keep supplies moving, but self-isolation and closure of corporate offices during COVID-19 resulted in a dramatic loss of manpower, Chief operations officer John Robertson says.
"A number of organisations including Blacktown City Council have answered the call and provided staff to fill the gap in our volunteer workforce," he said.
An ongoing partnership
Blacktown City Council Mayor Tony Bleasdale says the arrangement continues a longstanding relationship between Council and Foodbank.
"Council and Foodbank have been long time partners in our City. During the recent bushfire emergency, we set up collection points for donations of non-perishable foodstuffs and personal hygiene items, and delivered them to Foodbank," he said.
"This is a win-win-win situation. It helps Foodbank maintain its vital services, provides real work for our staff during a time of reduced Council operations and gives them a sense of pride and connection with our community."
Kelli Maybury is one of ten Blacktown staff who are now putting in time at Foodbank's Glendenning warehouse.
In her pre-COVID role with Council Ms Maybury worked at the Mount Druitt and Emerton Swimming Centres, but these days her work includes stacking boxes of sausages for Foodbank.
"It's actually been really good. There's a lot of variety in the work and I feel proud to be doing something to help the community at this time. Also, a change is always good for you," she said.
No job losses
Despite taking a blow from COVID-19, Blacktown maintained a policy that there would be no job shedding it was able to retain all permanent and part time staff.
Other staff have been redeployed internally, including a swimming instructor who is studying communications and has been redeployed to the media unit, and a kiosk worker who is temporarily working in parks and gardens.
A spokesman told Government News as things returned to normal council staff would be absorbed back into their usual roles, but the feedback from the redployment had been overwhelmingly positive.
"The staff love it," he said. "The biggest risk now is that they won't want to go back."