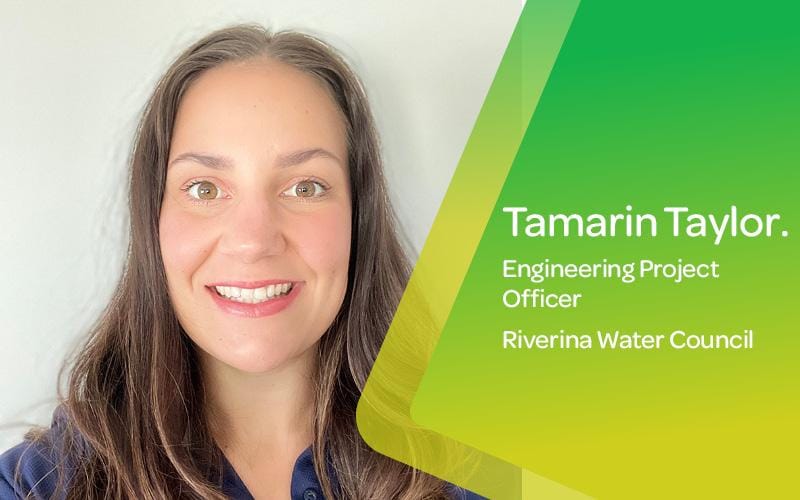 Q&A with Tamarin Taylor, Engineering Project Officer, Riverina Water
Q. How did your career begin in local government?
A. I began as an Engineering trainee at Mildura Rural City Council in 2009. I completed a Diploma in Civil Engineering, and then 10 years ago, I moved to the Riverina Region and accepted a job with Riverina Water. I then completed Advanced Diplomas in Project Management and Strategic Contract Management and Procurement. And I'm now completing a Civil Engineering Degree through The University of Queensland.
Q. What does your role at Riverina Water entail?
A. I have two functions in my role. The first is to run specific projects allocated to me under the Council's capital works budget. On any given financial year, I can have four to five projects that are mine to oversee and manage. That could include any number of things; from a water tank, water reservoir, construction of buildings, reconstruction of roads – really any type of civil projects.
In addition to that I run and manage the council's service delivery contracts such as air conditioning maintenance and the like. I also provide niche technical engineering assistance and advice to different departments.
Q. What do you find the most rewarding about your role?
A. I work on a diverse range of projects which is something I really enjoy. Around a year ago, I built out a new room on a mezzanine floor. It was the new council room for our organization and I ran the project start to finish. It was really exciting and challenging because it involved a multitude of engineering disciplines; structural, mechanical, electrical engineering.
I had complete ownership from design, construction and ultimately the delivery. I was able to really push myself – I have a passion for innovation and with this project I could explore how I could add new innovative features in the room.
The room uses the latest technology systems to provide a completely wireless experience for users. This is very cool for a room of its size and use (being a council board room), and it is quite a complex installation.
There are also wireless microphones and cameras for live broadcasting of council meetings, in-ceiling speakers, and you can share from your mobile device or laptop onto any of the 3 TV screens in the room without the use of any cord or cables. There is also a hearing loop which has created an inclusive meeting space for people of all abilities.
In addition, there is a 'hidden kitchenette' which is concealed behind a big timber sliding door.
It was opened in October!
I also love being able to make a real difference in the community. For others it might just be a water tank, but for me I know the work that's gone into it and that it provides water to 45,000 people – for me that's really satisfying.
Q. How would you describe the culture at Riverina Water?
A. They're really supportive. I have a young family and sometimes it can be a juggle – the demands of my role are high; projects don't just turn off when you leave. But Riverina Water have been really flexible allowing me to work different hours so I can be there for my children.  That's also the beauty of what I love about the Riverina Region – everything is so close. If I get a call from my daughter's school, I can be there in 10 minutes – even if I'm on a job site somewhere. That's really valuable to me.
Q. What would you say to someone considering a traineeship at council?
A. For me, I really enjoyed having that mix of study and on the job learning, seeing how local government operates and being in the thick of it.  I'd encourage anyone to give it a go – it's a good way to get your foot in the door and feel like you were contributing to something bigger, something you, your friends and your family are going to use and enjoy.
Q. What differences do you see with an Engineering career in local government vs. the private sector?
A. Definitely the biggest difference is the scope of work. I've found Local Government is so good at giving Engineers access to a broad range of projects – this year alone I've built a water tank which hydraulic engineering, I've built roads which is civil engineering and I've managed construction of buildings which is structural engineering.
Here, you get to challenge your skills and abilities on a broad range of projects. And then you get to see it every day – and see the community use it, that's really rewarding.
Q. Are you able to explain what you think you get living and working in the Riverina region that you wouldn't anywhere else?
A. The thing that impressed me it's big enough that you have access to great retail, community events, restaurants and you're so close to Melbourne, Canberra and Sydney – but it's also small enough to feel like home. It's also surprisingly diverse here. I'm South African and I've met so many other South Africans and people from all over the world which I really enjoy.
An Engineering Career in the Riverina Region offers so much, you're encouraged to think outside of the box, try new things and be innovative to achieve the best outcomes for the community.
Explore engineering opportunities available right now in councils across Australia –  https://jobs.careersatcouncil.com.au/?query&category=11&type&state_2