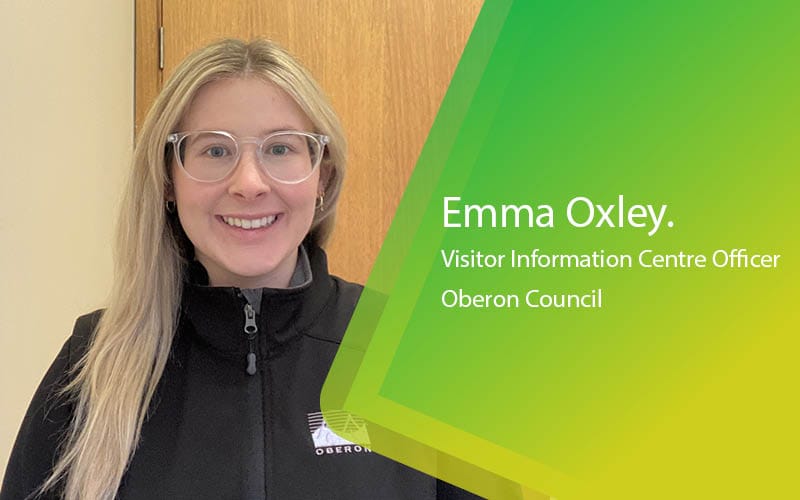 Introducing Emma Oxley, Visitor Information Centre Officer at Oberon Council
Read on and discover what Emma enjoys about her role at Oberon Council, and what surprised her the most when she began working for local government after completing her university studies.
Q. What bought you to Oberon and this role at Council?
A. I actually grew up here in Oberon and went to Sydney for university. I studied Business Management for three years at the International College of Management Sydney (ICMS) and when COVID hit I moved back to Oberon and finished my studies online. I commenced my position as Visitor Information Centre Officer in January 2021 – it's been a great first job out of uni!
Q. That's great to hear, can you tell us a little about what the position involves?
A. It's really diverse, there's a bit of customer service – so helping tourists and new residents with information about the region, there's also admin for the council and organising events as well.
I really enjoy the events side of it. We have a couple of big annual events here in Oberon that I have been involved in helping out with. There's the Field to Forest Festival and also a wine tour throughout the region which included having to organise the buses, make contact with the vineyards, organise the advertising and marketing to promote the events as well – basically just making sure it went smoothly. It was great to be able to put my skills from university into practice.
I also manage the Facebook and Instagram pages for the tourism side of the council – 'Visit Oberon'.
Sometimes I'll go out and take images to post to give people inspiration for their weekends, we also re-share user generated content – where tourists have come to the region and tagged us in their images.
Q. How would you explain the workplace culture at Oberon Council?
A. Even though the visitor centre is in a different location to the council buildings I definitely feel like I'm a part of the team.
My manager is really helpful and supportive and we have meetings with the wider team every fortnight so we know what's going on in other departments. That's really helpful to know what everyone else is up to. For example, if the library is running an event, it's good for us to know because we can promote that to the community too from the visitor centre.
I'm also part of the Workplace Health and Safety (WHS) Committee and we also have meetings to discuss how we can improve WHS at Oberon.
Q. Have you had the opportunity to do any courses yet?
A. Yes! I was able to do a social media course and also a marketing course run by external companies. I've also completed mental health training which was really valuable.
Q. What do you find the most rewarding about your role?
A. I really enjoy helping people when they come into the visitor centre. Whether it's a member of the community who just needs to print something out, or a tourist who is trying to find their way around. I love working with the public.
Q. When you joined the council just over a year ago, what surprised you the most?
A. There's just a lot more to council than what you expect. I didn't realise just how much local government does – there's so many different departments, which means so many different opportunities as well.
Q. Would you recommend a career at council to someone finishing up their studies and considering their first career move?
A. Yes absolutely. Council is so supportive no matter what you want to do. I've had the chance to do courses and I've learnt so much just in this one role. I'd say if you're motivated by serving your community then local government is a great career choice!
Are you just finishing your studies and wondering what move to make next? Click here to check out the amazing opportunities available in local government right now.