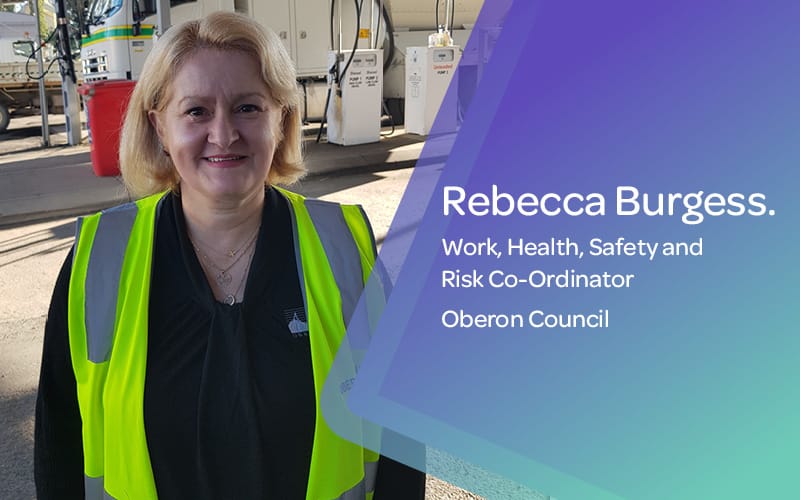 Introducing Rebecca Burgess – Work, Health, Safety and Risk Co-Ordinator, Oberon Council
Originally from Sydney, Rebecca Burgess shifted to Oberon in the Central West of NSW 18 years ago with her husband and daughter. She had spent time in the region at her parent's weekender and like her husband, Rebecca welcomed the idea of living in the country.
It's a decision she has never regretted. Rebecca says, "It's just incredibly beautiful here. You get to meet so many people, there's a real community feel that you just don't get in the big cities. It's also been an amazing place to raise our three children."
NEW TO LOCAL GOVERNMENT AND LOVING IT
Rebecca has worked for Oberon Council since 2008. It was her first experience working in local government, and just like her move to Oberon itself, she believes she has found her place in council. Rebecca explains, "I just love it here. The job is fantastic and the culture is really fun and supportive. There's job security, and the RDOs are the best thing since sliced cheddar!"
Prior to working in local government, Rebecca held administrative roles with Charles Sturt University in Bathurst and leadership positions with Telstra in Sydney. She originally joined the council in the engineering department and also worked in the finance team before moving into her current role as Work, Health, Safety and Risk Co-Ordinator.
Rebecca believes that experiencing different departments helped her to understand the mechanics of local government. She comments, "Joining local government can be a bit daunting because it's so different. One of the biggest differences is the transparency and accountability that's required when working with the public's money."
A PART OF SOMETHING VERY IMPORTANT
There's definitely no such thing as a typical day in Rebecca's role. And that's what she enjoys. Rebecca is responsible for the workers compensation, return to work strategy, insurances, checking tool boxes, plant pre-starts, incident investigations and basically responding to anything that goes wrong.
Rebecca also completes risk assessments for events, ensuring the safety not only of Oberon Council's employees, but the community as well. Rebecca explains, "That's one of the things I enjoy the most, when you do risk assessments for community events, you come to realise that people rely on you to do your job well, that you're a part of something really important. I'm so happy to roll over my cog and keep everything going for the community."
NURTURING EMPLOYEES' MENTAL HEALTH
Another aspect of Rebecca's varied role is employee wellbeing, and specifically men's mental health. It is a part of the role that she has really nurtured after seeing the impact a recent Rural Adversity Mental Health Programme (RAMHP) presentation had on the predominantly male outdoor crew.
Oberon's RAMP coordinator is a trained psychologist and provides Rebecca with the support and tools she needs to look after the team. The presentation provided both Rebecca and the team with integral, practical information on how to look after yourself, and what signs to look out for in others. It opened up vital communication channels that has already seen people coming forward to Rebecca in need of help.
The programme helps to support Oberon Council's traffic controllers who're amongst the first at the scene to divert or direct traffic after serious car accidents. In this role, these employees are often exposed to confronting scenes and Rebecca works to equip them with the skills they need to cope, and to recognise when they may need to ask for help.
KEEPING IT IN THE FAMILY
Rebecca's children, all raised in Oberon are now actively contributing to local government in the community. All three children are members of Oberon's Youth Council, a group of 12- to 24-year-olds who act on behalf of all young people in the town and with council, and work on fund raising initiatives to support the community.
Rebecca's youngest daughter Annabel, is currently the Youth Mayor. In a recent article in the Oberon Review, Annabel commented, "The Youth Council is a really easy way for young people to have their voices heard. We encourage all young people to get involved to know what they can do to help with issues that directly affect young people." She added, "The Youth Council is also a really awesome way to meet like-minded people and make new friends."
Rebecca is proud that her children are following in her footsteps and doing their bit to make a real difference to Oberon and its residents.
If living and working in a stunning location steeped in community spirit sounds like you, why not check out the opportunities available right now.