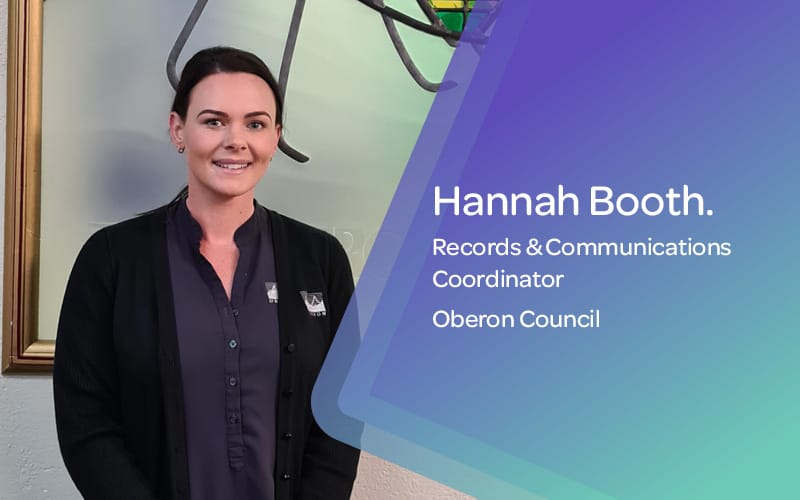 Q&A with Hannah Booth, Records and Communications Co-Ordinator, Oberon Council.
Meet Hannah Booth, a self-described born and bred Central West girl who has found her place in Local Government.
Q. Can you describe your career background and what led you to Oberon Council?
A. I'm from Bathurst originally, and after I got my Advanced Diploma in Nursing from Charles Sturt University in Bathurst, I won a scholarship and was granted the opportunity to travel to China to work in Shanghai in two international women's hospitals. It was very challenging because I don't speak mandarin, but luckily there were a lot of ex-pat clients – and they were definitely treated as 'clients'. Private healthcare in China is very different to the public system. The hospitals were like hotels!
I then continued my nursing back in Bathurst at the local public hospital. At that time, I was doing a lot of shift work and it was taking a toll mentally and physically. I had a 45-minute commute from our home in Oberon to the hospital and back again. Driving for so long was the last thing I felt like doing at the end of a 12-hour night shift. Add the start of Covid into the mix, and I made the decision to step away from nursing.
When an admin position came up at Oberon Council, I applied for it and was successful. I have recently been offered the new role of Records and Communication Coordinator which I'm really enjoying.
Q. Looking back are you happy with your decision to leave nursing and start a career at Oberon Council?
A. It's the best thing that I've done career-wise for a myriad of reasons. The reduced travel time and the human time I've gained back – the change has been great. I have a two-minute drive to work at the moment! My husband and I bought a block of land just out of town and we're building and once we get in, hopefully in a couple of months, it'll still only be a five-minute commute.
I think from the very beginning, I knew that local government was going to be my long-term career plan. I knew so many people in Oberon that had long successful careers with the council. And that's throughout the organisation, it's not just internal office staff – it's the outdoor crew as well. Normally in those outdoor roles there tends to be a higher turnover because it is quite a physical role, but here at Oberon we have a really stable team throughout and that's one of the things that appealed to me.
Q. What are the main responsibilities in your new role?
A. It's a really diverse role. From the records side, I look after the management of Oberon's electronic records system which includes all the legal documentation. On the communications side, I organise all of the media releases, and I maintain the content on the website and on the Facebook page as well. We have a page in the local newspaper each week – that's been a long-standing part of our community communications approach but we're definitely moving towards using our social media channels more for communicating with the community.
We also have the Service NSW agency within the council and I'm the only trained operator for that at the moment.
Q. What types of challenges do you face in your role?
A. You definitely get curve balls thrown at you in this role. At the moment it feels like councils in general are dealing with that a lot more than normal. People are quite stressed. You have to understand that generally, people don't love having to interact with council. They're coming to us because they need something, because something has gone wrong. I try and turn that around. We want to show people that dealing with council doesn't need to be as horrid as they think it's going to be and they can have a positive and friendly interaction with us!
It's really rewarding to send someone off with a smile when they were expecting that it was going to be a negative experience.
Q. How would you describe the workplace culture at Oberon Council?
A. My experience is that everyone looks out for each other and we're aware that everyone has their own needs. We recognise when people are struggling or need a bit of extra space.
I think being a smaller community as well – everyone knows everyone on a personal level, it's amazing to come to work and feel comfortable with the people you work with.
And family-wise, management understand that things happen, kids get sick so if you need to take time off the council is really supportive. There's been a lot of discussion and talk about ways in which I can advance my career here – I'm constantly being offered training opportunities. It's really evident to me that whichever direction I choose to go in, I will be nurtured.
My husband and I are hoping to start a family of our own – I've been very open and forthcoming about that, and I've received nothing but support both from my direct managers and upper management as well.
I definitely feel so supported and encouraged here.
Q. What would you say to someone considering a move to Local Government in Central West NSW?
A. The air is clean, clear and crisp – you've got the space to think and breath. The attitudes are relaxed, and people are laid back. But we're so close to Sydney that we don't miss out on anything here. There are also amazing places like Orange and Mudgee close by for amazing food and wine.
Career-wise there are so many opportunities. Whether you're in finance, planning or engineering you can have a fulfilling career – but still have the easy, relaxed lifestyle that the Central West offers.
Is now the right time for you to consider making the move to a fulfilling career and a relaxed lifestyle in the Central West? Visit Careers at Council Jobs to discover the opportunities available right now!