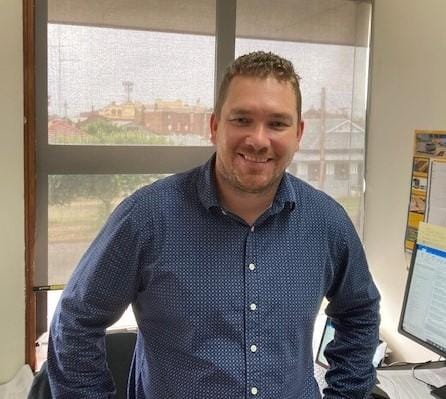 Q&A with Manager Engineering Technical Services, Bland Shire Council – Jamie Harwood
Q. Can you tell us a little about how your local government engineering career began?
I grew up in Griffith in the Riverina region. I'm a welder by trade, but I began studying engineering at night to put myself in a better position to be accepted for a Council Engineering Cadetship.
I must've applied for over 10 cadetships and didn't even get an interview – the last one I applied for was for Wagga Wagga City Council. I told myself that if I didn't get it, I was going to reconsider engineering. I did get it and my goodness, I'm glad I didn't give up!
I went on to complete my Cadetship in Civil Engineering at Wagga Wagga City Council and worked there for nine years. And then an opportunity here at Bland Shire Council came up and I saw it as a great chance to move into management.
Q. What does your role entail at Bland Shire Council?
We've got a team of around 40 people and the second largest road network in NSW.
We also look after the airport, deal with Federal and State Government grants  (which is predominantly where our funding comes from), we currently have four different flood studies on the go at various stages, and are in the process of reclassifying  regional roads to state roads and local roads to regional roads.
We manage the capital works – maintenance works of unsealed and sealed networks. We have six road construction crews – four in construction and two in maintenance. Bland Shire Council is unique because we have all our own quarries where we get our aggregate from and we do all our own haulage. Everything comes from within the organisation which has been a big logistical change for me.
I'm learning something new every single day which I really enjoy.
Q. How does Bland Shire Council support your professional development?
Local Government has provided me with amazing professional development. I completed a Bachelor of Engineering Science Major in Civil and a post grad in Road Construction Engineering while I was at Wagga Wagga City Council.
Bland Shire Council are now supporting me financially through my Master's Degree in Engineering Management from the University of Technology in Sydney.  You don't get that anywhere else, the opportunities here speak for themselves in terms of professional development and support.
Q. What is your proudest achievement to date in this position?
Being new to the area I have to rely heavily on my team for their local knowledge. That's been my approach from the start; involve these guys on a journey. I need their local knowledge and I can bring different systems and processes to our work.
One of the best things about Bland Shire Council is that there's room for development/improvement – I can bring value and achieve something I believe is really important.
I was really pleased to see that Bland Shire Council were using  Assetic – a world leading assets management program. However, I believed we could improve on its efficacies so our team threw itself into building on the foundations and setting up a sewer strategy.
I'm really proud that our team managed to use Assetic to implement a 20-year works program for sewer. It's taken 8 months, however we've done it. I worked closely with the guys with local knowledge on the ground, GIS mapping, foremen, supervisors and the asset officers to upload the conditions – the modelling is only as accurate as the condition data and the output and accuracy is dependent on clean asset data.
We've taken it to the next level and although there is still more work to be done in the validation phase to have it fully implemented. I am impressed our team has made it this far.
We've now got a non-subjective, non-political guide for our works programming moving forward.
For me getting something like this out of the program was revolutionary.
Q. What would you say that you get living and working in the Riverina region that is unique?
It's definitely the lifestyle. We've got lots of good food, there's restaurants and pubs and some great wineries within the region. There's just so much to do.
I've noticed there's more being spent in the regions to develop more community infrastructure – parks and gardens and active travel paths for families. It's also just so much more affordable and a great place for kids with every possible sport and community activity you can imagine, on offer.
Q. What would you say to someone who was considering an engineering career in local government in the Riverina region?
In engineering, if you work in the private sector, sometimes you might get a bigger pay packet, but when you work it back to the hourly rate, you're far better off in local government. Council offers flexible working arrangements and a,  9 day per fortnight  roster, that's 25 days additional leave! Here at Bland, you are also entitled to 5 weeks annual leave and long service leave after 5 years.
And for me, the professional development that local government has provided is crucial. Education-wise – I have no bills, no loans. Nothing but support from my employer. Out in the regional areas you also get more of a scope to get involved in a lot more projects as opposed to a larger organisation where you can get streamlined into one or two engineering discipline areas.
With local government, you actually make a difference in the community. If you're seeing improvements, public money is getting spent wisely and you're proficient at your job – you're helping the community. And that's really important to me.
If you're looking for a rewarding, meaningful career that offers the ultimate in work/life balance, why not consider a career in the Riverina region? Check out the opportunities available right now.